The Temecula Valley Dachshund Club proudly presents the 9th Annual

TM

* "Wine Country Wiener Fest", "WCWF" and the WCWF logo are trademarks of the
Temecula Valley Dachshund Club (TVDC) and Janice & Jim Richardson - founders...
* See Mount Palomar Winery section below for event address & map link!
$$ The WCWF is an outdoor CASH-mostly event - please plan accordingly!
---
The Wine Country Wiener Fest supports local Dachsund Rescue Groups!

Even if you cannot attend please Donate to help the Doxies in Need!!!

---
Help Us Promote!

How can YOU can help promote the Wine Country Wiener Fest? Simple! Just download our WCWF Event Flyer
(pictured above) or Half Sheet Flyers, print a few copies, and post them at your veterinarian's office, favorite coffee shop bulletin board, and anywhere else they will be seen around town!


---
Schedule of Events, Rules & Recommendations...

The Wine Country Wiener Fest (WCWF) rough schedule of events is as follows:


| | | |
| --- | --- | --- |
| | 11:00am - 12:00n | Arrive, games, vendors, early-bird raffles & door prizes, silent auctions... |
| | 12:00n - 1:00pm | Lunch, Dachshund Trivia, Mount Palomar wine tasting! |
| | 1:00pm - 2:00pm | Dexter's Derby Dachsund Races! - Preliminary Heats |
| | 2:00pm - 3:00pm | Complete raffles, silent auctions, announce game winners! |
| | 3:00pm - 4:00pm | Dexter's Derby Dachsund Races! - Final Heats & WCWF Grand Championship |

Some Rules & Recommendations from your WCWF Event Hosts include:

A one-human per dachsund ratio is HIGHLY recommended! Bring ALL your doxies, but bring human help!
It takes TWO humans to handle ONE doxie in the Doxie Races! If you're racing, you need TWO humans!
NO "extendy" (retractable) leashes - use your short 5 or 6 ft. fixed-length leashes, please!
Mind your doxie's manners! Keep control of your "kids" - fluffy & otherwise - at ALL times!
---
Vendor Information
2018 Confirmed WCWF Vendors
---
Doxie Services
* ShamPooch Pet Styles MOBILE Grooming will be offering $5 nail trims with all proceeds going to Doxie rescue.
We all know how difficult it can be to trim 20 nails! Both clippers & dremmel-grinding methods will be available...


---
Mount Palomar Winery - The Perfect Place!

Click the banner to explore Mount Palomar Winery on the web...

33820 Rancho California Road
Temecula, CA 92591


with Mount Palomar Wine Tasting for the Adults!
---
Family Friendly Games & Contests
The WCWF festivities will include fun, family-friendly games, local vendors & services, food & beverages plus adult wine tasting, silent auction, raffles and door prizes!

WCWF Raffle/Game tickets will be $1.00 ea. purchased the day of the event. But you can purchase your tickets in advance at up to a 20% discount by using the PayPal "Add to Cart" button provided to the right... WCWF Raffle/Game tickets purchased in advance may be picked up at the Game Booth "Will Call" on the day of the event... If you plan to come, don't miss out on the extra FREE tickets - buy in advance and SAVE!

WCWF Games will include:


Longest Wiener (dog) - We measure your Doxie - Longest one wins a prize!

Tiniest Wiener (dog) - We weigh your Doxie - Lightest one wins a prize!

Guess "How Many Dog Biscuits?" are in the jar - Closest guess wins a prize!

Best Doxie Kisser - Most face licks in 30 seconds wins a prize!

Doxie Bingo - If your Doxie "doo's" in the right spot - BINGO! - you win a prize!

DESTROY the TOY! - If your Doxie is first to remove the squeeker from a plush toy - you win a prize!


Other WCWF Contests & Door Prizes will include:


Farthest Distance Traveled to the Wine Country Wiener Fest!

Most Punctual Doxie - arriving closest to our WCWF official start time of 11:00am!

Most Dachshunds brought to the Wiener Fest (besides our Rescue Groups!)


---
"Dexter's Derby" Dachshund Races - Information & Registration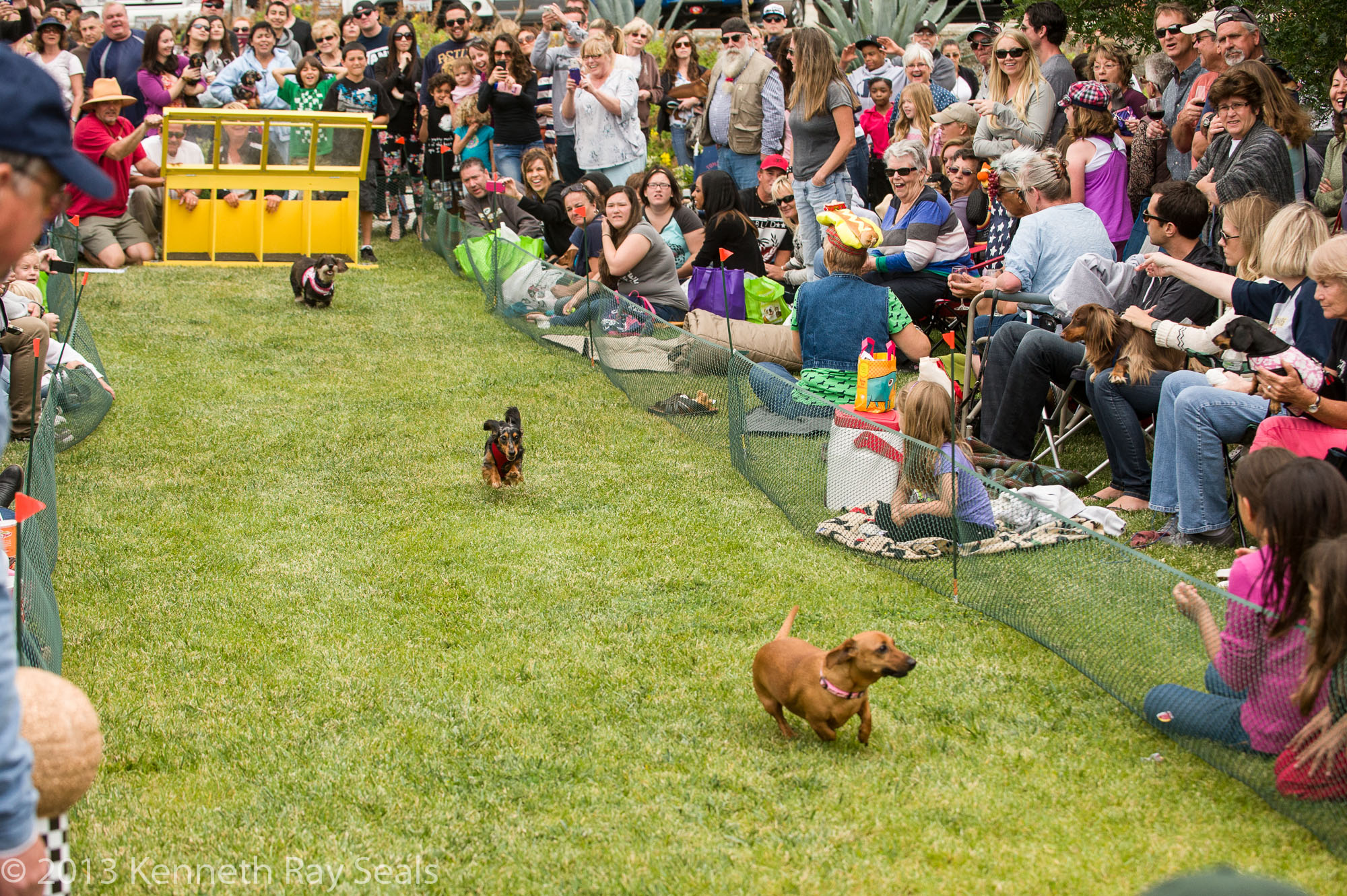 Our featured event of the afternoon was our "Dexter's Derby" Dachshund Races!


Dachshund PUPPIES! - all doxies less than 2 years old - 7 slots remain!

Dachshund Adult Open - all doxies 2 through 6 years old - 7 slots remain!

Dachshund Seniors - all doxies 7 years and older - 12 slots remain

Dachshund Mixes - all Doxie mixed-breeds, any age - 5 slots remain!


Races will be held in the above four (4) categories. &nbspEntries will be accepted on a first-come, first served basis. Each category will run heats of 4 doxies, with winners advancing toward the category Final Race. The winners from each category will then race for the coveted "Dexter's Derby - Grand Champion" title!




100 Doxies raced for the 2017 Crown!


The Dexter's Derby entry fee is just $10.00 per doxie with 100% going to Doxie Rescue.
The brackets will fill up fast so reserve your space(s) now! Submit your entry fee(s) using the PayPal "Add to Cart" button provided to the right... Don't delay - Enter TODAY!


Why is it called "Dexter's Derby" anyway? Who is Dexter?










Dexter was a very special foster doxie who came to us from Ramona Humane Society (San Jacinto, CA) through Janet Maxwell at Riverside Dachshund Rescue & Sanctuary. Dexter was left in RHS' night drop and was obviously suffering from a neurological disorder that prevented him from walking - all his limbs worked, just not in unison. He could get up on his own, stagger a few steps, but then would fall over on his side - sometimes "running in place" with frustration. Over time in foster he got stronger and better on his feet, sometimes taking up to 20 steps before falling over. He could actually "chase" our other doxies and play with them! He had some great days, but also some seizures and setbacks.
This 10/2/2009 YouTube video shows Dexter at about his best!
With a generous medical grant from the national Almost Home Dachshund Rescue Society (AHDRS), Dexter received the best medical care including a brain MRI and spinal fluid tap to try to diagnose his neurological disorder. He was finally diagnosed with "Caudal Occipital Malformation Syndrome", or COMS, which is a birth defect where the skull grows into the brain. We were planning for a life-saving surgery in New York City, but despite our best efforts and Dexter's unbreakable spirit, he took a turn for the worse in mid October and eventually passed away on October 29th, 2009.

We will NEVER forget our little Dexter. He never got to run with the Doxies here on Earth, so, today we run in memory of our beloved little Dexter, in our "Dexter's Derby" dachshund races!!!


---
Wine Country Wiener Fest - Logo T-shirts/apparel & stuff from Zazzle.com

Our official Wine Country Wiener Fest logo T-shirts & apparel are printed and shipped on-demand directly to you from Zazzle.com, with 100% of the proceeds benefiting dachshund rescue! Support the WCWF and order yours today by clicking on one of the T-shirts shown above! Sweatshirts, long sleeve & LADIES STYLES also available!!!

Also checkout our WCWF logo coffee mugs, glass mugs, beer steins & travel mugs! Click below to choose your style, color & size... 100% of the proceeds benefit dachshund rescue!
---
Your Donations & Event Purchases are Tax Deductible


All WCWF donations & event purchases are tax deductible contributions to:
Sunny Oasis Rescue "SOR" - Tax ID # 68-0636290
and/or Dachshune Rescue & Placement, Inc. - Tax ID # 47-2148144


To learn more about Sunny Oasis Rescue visit the SOR website

To learn more about the Temecula Valley Dachshund Club visit the TVDC website

To learn more about Dachshund Rescue & Placement, Inc. visit the DR&P Inc. website