The 5th Annual WCWF will be
MAY 4th, 2014
- Save the Date!!!

TM

* "Wine Country Wiener Fest", "WCWF" and the WCWF logo are trademarks of the
Temecula Valley Dachshund Club (TVDC) and Janice & Jim Richardson - founders...
THANK YOU to our 2013 WCWF Volunteers:
Ruby Benham, Susan Besancon, Pam Carson,
Carleen & Alan Cook, Jillian Cook, Jim Day,
Glenn Evans, Cjay Gan, Mick Herod,
Jean & Carl Hoffman, Ken & Lauren Seals,
Tara Tomicevic, Cindy Wilson
$$$ The 2013 WCWF raised $3,300 for Doxie Rescue! $$$
Thanks to all who attended for your generous support!!!
---
2013 Wine Country Wiener Fest - Recap...
Check out the great Wiener Fest photo album by 2013 WCWF phtoagrapher Kenneth Seals!

And here are even more photos by TVDC members posted at Meetup.com!

And how about this Valley News article on the Wine Country Wiener Fest! (flip to page 8)


---
2013 WCWF Vendor Information
Vendor Information
Thank You to our 2013 WCWF Vendors!
It's a Long Story
Zipper's Creations


---
Mount Palomar Winery - The Perfect Place!

Click the banner to explore Mount Palomar Winery on the web...

33820 Rancho California Road
Temecula, CA 92591


---
Family Friendly Games & Contests
The WCWF festivities include fun, family-friendly games, local vendors & services, food & beverages plus adult wine tasting, silent auction, raffles and door prizes!

WCWF Games included:


Loooongest Wiener - DOG! - Yes, we measure your Doxie - Longest one wins a prize!
Congratulations Sir Sumi - you're 40.75 inches long!
Tiniest Wiener - DOG! - We weigh your doxie - Lightest one wins a prize!
Congratulations Felicity Mendes - you're just 3 lbs. 7 oz!
Guess "How Many Dog Biscuits?" are in the jar - Closest guess wins a prize!
Congratulations Leah - you only missed it by FIVE!
Best Doxie Kisser - Most face licks in 30 seconds wins a prize!
Congratulations Unknown Winner - 89 doxie kisses in just 30 seconds - That's a new WCWF record!!!
Doxie Bingo - If your Doxie "doo's" in the right spot - BINGO! - you win a prize!
Congratulations SIX winners - you (your doxie, actually) won "Doxie Bingo"!


New for 2013.. DESTROY the TOY! - If your Doxie is first to remove the squeeker from a small plush toy - you win a prize!
Congratulations Marley Cossaboom of Murrieta - you SHREDDED it in Destroy the Toy!!!

Other WCWF Contests & Door Prizes included:


Kentucky Derby-style Extravagant Hat Contest!
Congratulations to Joe Grossi and two others who won prizes!
Farthest Distance Traveled to the Wine Country Wiener Fest!
Prizes (Doxie Luggage Tags) went to Jennifer Jones who came from Vancouver, WA!
& someone else who came from Wisconsin!
Most Punctual Dachshund - arriving closest to our WCWF official start time of 11:00am!
Congratulations & a Prize went to The Houser Family - for their notable punctuality!
Most Dachshunds brought to the Wiener Fest - not counting our Rescues!
Congratulations & a Prize went to a family with FOUR doxies in tow at the Wiener Fest!



---
"Dexter's Derby" Dachshund Races - Information & Registration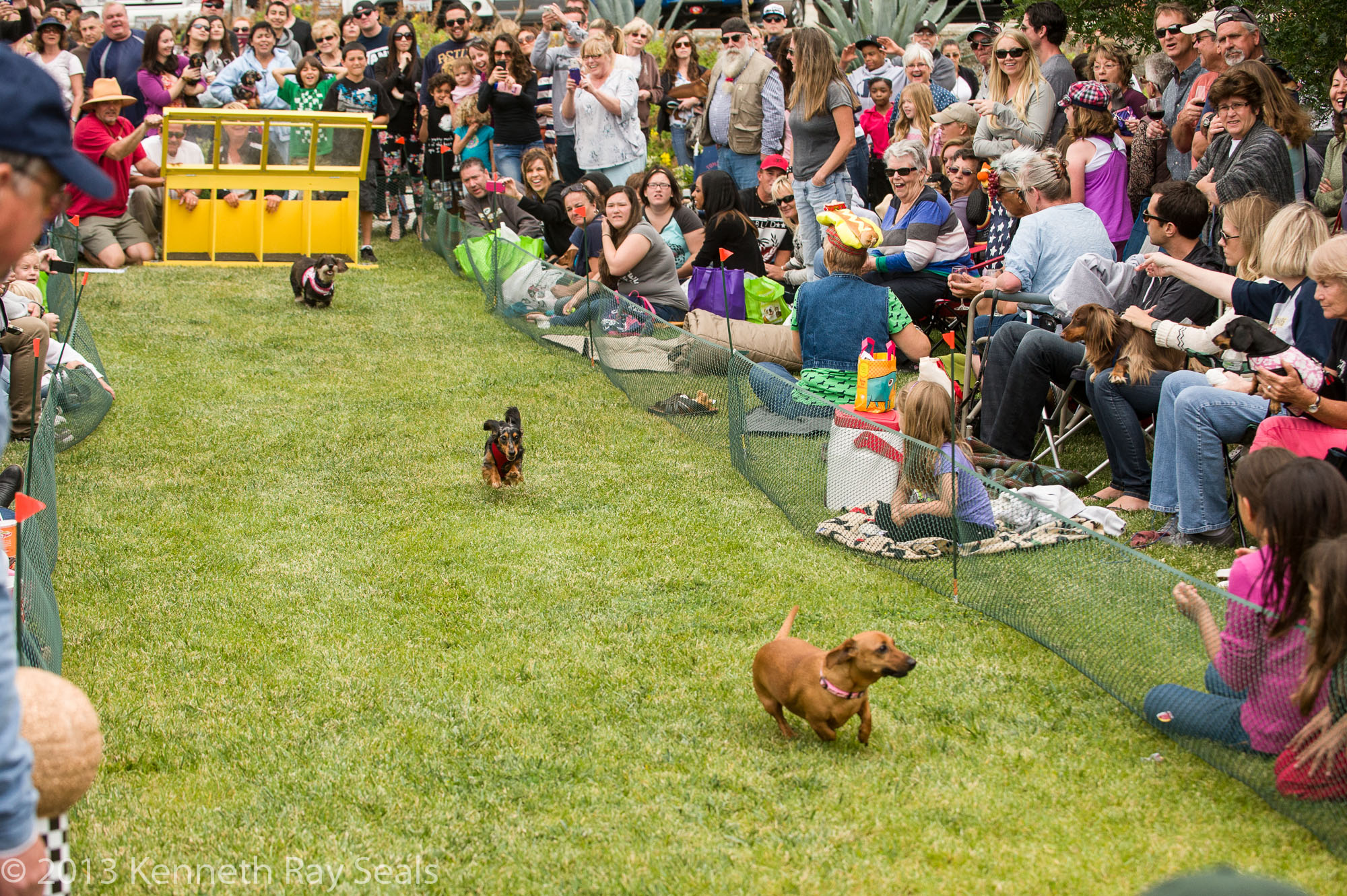 Our featured event of the afternoon was our "Dexter's Derby" Dachshund Races!

Dachshund PUPPIES! - all doxies less than 2 years old
Congratulations Frankie Turnbull from Orange - you're the 2010 WCWF Puppy CHAMPION!
Dachshund Adult Open - all doxies 2 up to 7 years old
Congratulations Presley Caetta from Placentia - you're the 2010 WCWF Adult Open CHAMPION!
Dachshund Seniors - all doxies 7 years and older
Congratulations Harry Wiener from Temecula - you're the 2010 WCWF Senior CHAMPION!
Dachshund Mixes - all Doxie mixed-breeds, any age
Congratulations Spooky from Murrieta - you're the 2010 WCWF Doxie Mix CHAMPION!
92 Doxies raced for the 2013 Crown!


Congratulations to "Presley" and Amy Caetta of Placentia.
YOU are the 2013 Wine Country Wiener Fest
"Dexter's Derby - Grand Champions"!!!




Presley covered the Official-unoffical
doxie sprint distance of 53 feet
in just 2.40 seconds - the fastest
time we've ever recorded and at an
average speed of 15.057 MPH - the
FIRST doxie we've seen to break the
coveted 15 MPH barrier!

Way to go PRESLEY!!!
Why is it called "Dexter's Derby" anyway? Who is Dexter?










Dexter was a very special foster doxie who came to us from Ramona Humane Society (San Jacinto, CA) through Janet Maxwell at Riverside Dachshund Rescue & Sanctuary. Dexter was left in RHS' night drop and was obviously suffering from a neurological disorder that prevented him from walking - all his limbs worked, just not in unison. He could get up on his own, stagger a few steps, but then would fall over on his side - sometimes "running in place" with frustration. Over time in foster he got stronger and better on his feet, sometimes taking up to 20 steps before falling over. He could actually "chase" our other doxies and play with them! He had some great days, but also some seizures and setbacks.
This 10/2/2009 YouTube video shows Dexter at about his best!
With a generous medical grant from the national Almost Home Dachshund Rescue Society (AHDRS), Dexter received the best medical care including a brain MRI and spinal fluid tap to try to diagnose his neurological disorder. He was finally diagnosed with "Caudal Occipital Malformation Syndrome", or COMS, which is a birth defect where the skull grows into the brain. We were planning for a life-saving surgery in New York City, but despite our best efforts and Dexter's unbreakable spirit, he took a turn for the worse in mid October and eventually passed away on October 29th, 2009.

We will NEVER forget our little Dexter. He never got to run with the Doxies here on Earth, so, today we run in memory of our beloved little Dexter, in our "Dexter's Derby" dachshund races!!!


---
Wine Country Wiener Fest - Logo T-shirts/apparel & stuff from Zazzle.com

Our official Wine Country Wiener Fest logo T-shirts & apparel are printed and shipped on-demand directly to you from Zazzle.com, with 100% of the proceeds benefiting dachshund rescue! Support the WCWF and order yours today by clicking on one of the T-shirts shown above! Sweatshirts, long sleeve & LADIES STYLES also available!!!

Also checkout our WCWF logo coffee mugs, glass mugs, beer steins & travel mugs! Click below to choose your style, color & size... 100% of the proceeds benefit dachshund rescue!
---
Your Donations & Event Purchases are Tax Deductible


All WCWF donations & event purchases are tax deductible contributions to:
Almost Home Dachshund Rescue Society "AHDRS" - Tax ID # 22-3805577
and/or Sunny Oasis Rescue "SOR" - Tax ID # 68-0636290


To learn more about Almost Home Dachshund Rescue Society visit the AHDRS website

To learn more about the Temecula Valley Dachshund Club visit the TVDC website

To learn more about Sunny Oasis Rescue visit the SOR website